The Replacement for Pivotal Cloud Foundry
What is Google KF?
Google KF is a Google project designed to be a migration tool for application workloads originating from Tanzu Application Service (aka Pivotal Cloud Foundry) to Kubernetes
KF runs CF workloads natively on GKE
Runs on any cloud provider via Anthos
Why Should I Use Google KF?
To eliminate platform licensing fees
To migrate my application workloads to Kubernetes
To minimize developer efforts in migrating applications to Kubernetes
To maintain a unified developer experience post migration
To minimize the time to migrate my applications to Kubernetes
To migrate my workloads from on-prem to the public cloud
How does it work? And, How much does it cost me?
Google KF is a Cloud Foundry replacement deployed on Kubernetes (GKE)
KF is installed on GKE

GKE runs on Google Cloud Platform
GKE, via Anthos, also runs on AWS, Azure, VSphere, and Bare Metal

The main change for developers is that they have to change their CF commands to KF commands

Or simply alias the cf cli to the kf cli

Google KF has no licencing costs
What is the process for migrating?
Month 1: Assess workloads for feasibility
Months 2-3: Proof of Concept and sample migration
Months 3-12: Migrate all apps to KF on Kubernetes
Months 12-48: Transform to your applications to the desired future state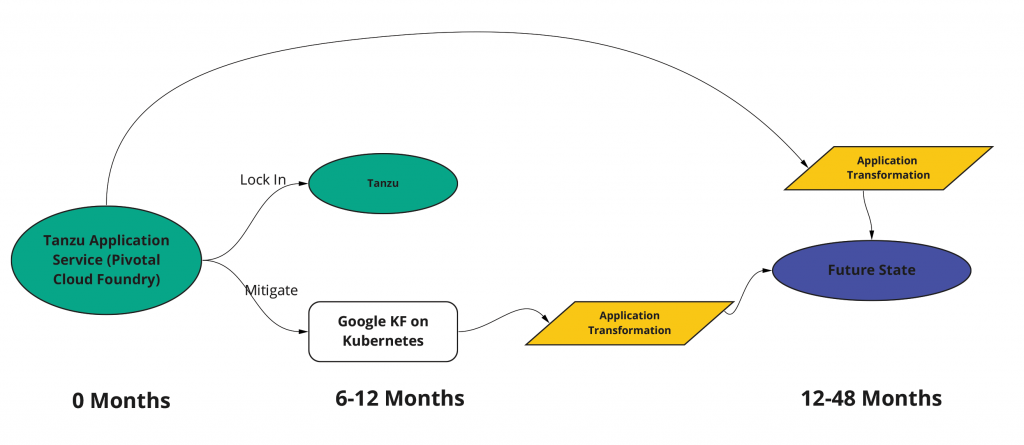 Why Stark & Wayne?
Stark & Wayne is a founding Silver member of the Cloud Foundry Foundation, a Google Premier Partner, and a Certified Kubernetes Service Provider. Most importantly, we can help you to actually pull it off.